General Rules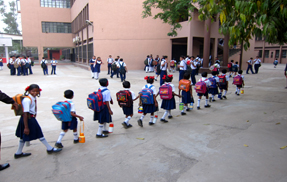 1.
8:00 a.m to 2:00 p.m. (winter)
2.
The summer vacations will be from mid-May to early July and and winter vacation after mid December to early January .Other vacations may not be anticipated without prior permission.
3.
Every student must come school in proper uniform as recommended by the school time to time.
4.
Non attendance on the first day of class after any vacation is considered a serious breach of discipline.
5.
Every student must have a copy of the school Dairy. The school Dairy must be brought to school on class days.
6.
Once in the school, no student will be allowed to leave the campus without the authorization of the principal.
7.
The school begins with prayer (Assembly)and all are expected to be present for the same

Parents will be kept regularly informed of their wards' academic progress and participation in co-curricular activates.
Two Terminal tests are conducted during the academic year.

First Terminal Examination : September
Second Terminal Examination : December
Annual Examination : February/March
Beside these, Monthly test/class Test is also conducted.
Promotion is granted on the basis of the whole year's performance